Last week I did a trade-in on my nickel-plated S&W Model 19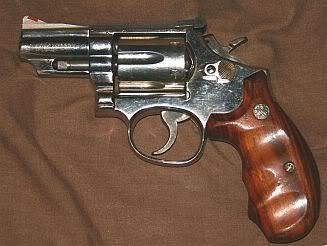 for...
A Smith & Wesson Model 28, .357 Magnum.
Although the Model 19 was an easier piece to carry (having the smaller "K" size frame) I found, that when I took it to a firing range, it's size was actually a disadvantage to it's accuracy when dealing with the kick of .357 Magnum.
The Model 28 (aka The Highway Patrolman) has the same full sized "N" Frame used on the "Dirty Harry" Model 29 .44 Magnum so it can easily handle .357 Magnum as well as being capable of firing .38 Special all day long...
It is a heavier gun and the finish is a bit holster-worn but, again, that was a drawback of that Model 19; the nickel was a bit of a delicate finish that needed a lot of attention to look good; rather like going into combat in a tuxedo...
Not very Indy, is it?